In the world of immediacy and multitasking where everything is expected to be yesterday, but with optimal results, it can be incongruous to be "traditional" to develop applications, bearing in mind that technology is advancing by leaps and bounds, but not necessarily, and it will depend much of the project that you want to develop to opt for one technology or another.
For example, as the Statista infographic indicates, currently the most demanded operating systems are iOS and Android, the latter being the leader to a great extent, although that will depend on the sector.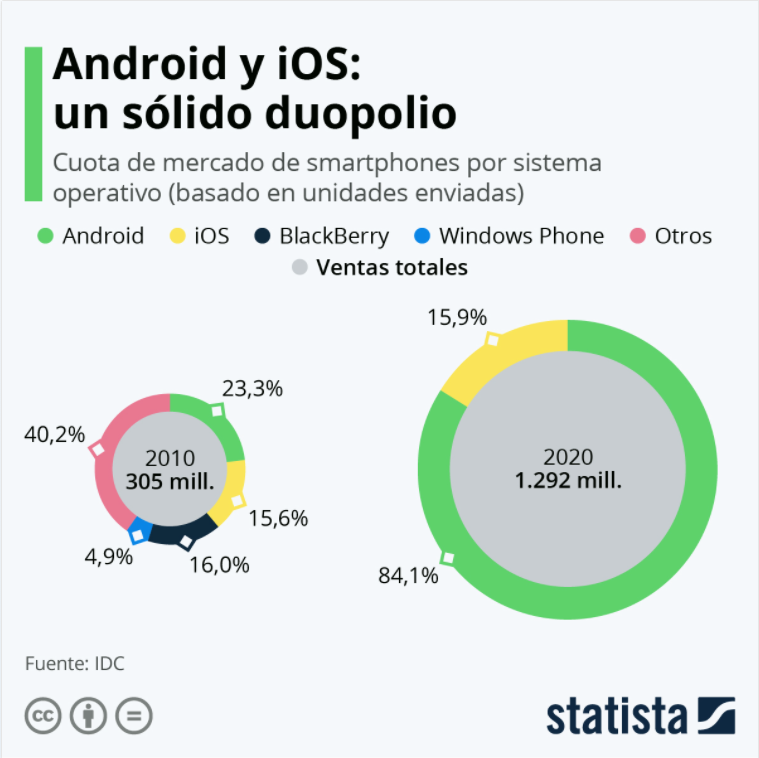 Hybrid or native applications? It is one of the most recurring questions that our clients usually ask us and our answer is always the same: It depends, that is why we want to tell you a little more about native applications and a slight focus on the business models in which it could fit.
What is a native app?
It is nothing more than software developed only for a certain operating system, whether for Android, iOS, Blackberry or Windows Phone, among others. The peculiarity of a native application is that it allows a better user experience than hybrid ones because it makes the most of the device's functionalities and features.
Native apps cannot share platforms, for example: Developing an app for advertisers or graphic designers is not the same as developing an app for teachers in rural areas or for the end customers of a shopping center, since clearly the needs of each target are different.
This leads us to a precise evaluation of the project to be carried out, delving not only into the functionalities, but also into the business model, as well as the target so that the decision is the right one and does not have to back down in the middle of development.
Now, one might think that having a native application could well be cheaper than a hybrid or multiplatform one because the development is only for one operating system, which is not precise since it will often depend on the number of functionalities, integrations, if it is scalable or not, among other factors and the decision is more about knowing what our target needs.
(Visited 10 times, 1 visits today)
#aplicaciones #app #development #evolbit
Last modified: February 9, 2022